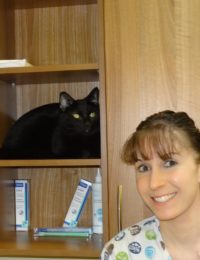 Practice Manager
Julie joined the Yonge-Davenport Pet Hospital in late 2020 as our Practice Manager. She joins the team with over fifteen years of customer service, and over ten years performing a variety of office administration duties, having previously managed two clinics and worked in administration, and as a veterinary technician, at the Toronto Zoo.
Julie has worked hands-on with a variety of domestic animals, as well as exotic animals and wildlife. Along with her enthusiasm and love for animals, Julie also brings with her a Bachelor of Science in Psychology with a focus in Animal Behaviour, from York University, and a Bachelor of Education from the University of Toronto. She also went on to graduate from the Veterinary Technician program at Seneca College, and is a registered veterinary technician.
She is pictured here with her cat, Monsieur.