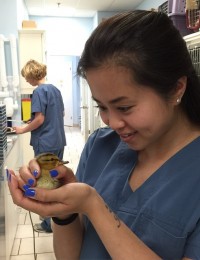 Client Care Representative
Cyn joined our team in March 2016. She'll be the one to greet your "Little Sirs" or "Little Mamas" when you come in. Be prepared for your pups to be spoiled with treats, your kitties to be fawned over and a mini photo shoot to happen for your pets' profile pictures!
Cyn currently shares her home with Patch a stubborn 16 year old Jack Russell Terrier, Missy an outstandingly sweet 15 year old DSH Calico, BK a sassy rebellious 4 year old DSH Dilute Calico and Dennis who accepts her less than perfect fur babies and shares her love of food and fitness.
Outside of work, Cyn can be found participating in food crawls around the city, walking around the city with Patch or immersed in a good book.