Welcome to our brand new full service animal hospital!
Yonge-Davenport Pet Hospital is pleased to provide a wide variety of veterinary services for companion animals in downtown Toronto, specifically Rosedale, Yorkville and the Yonge/Bloor area.
Located near Yonge St. and Davenport Road, our hospital is easily accessible by both car and public transit. We are steps away from Rosedale Subway station as well as the Yonge/Bloor Subway station.
Yonge-Davenport Pet Hospital is equipped with state of the art diagnostic equipment including in-house blood analyzers, digital radiography equipment (including dental) and in-house cytology. This helps Dr. Stefanescu diagnose and treat most problems as quick as possible.
The hospital is also equipped with a full surgical suite for soft tissue and dental procedures including extractions. We also maintain excellent relationships with nearby specialists should your pet need referral for specialized care.
Just one of the things that makes our hospital so unique is continuity of care. Our clients always see the same veterinarian each and every time, allowing Dr. Stefanescu to develop closer relationships to our clients as well as their pets. We also offer "drop-off" appointments. A "drop off" means you could bring your pet at the time that works best for you even if we are fully booked and leave him/her with us for a couple of hours. Dr. Stefanescu will examine the patient at the time purposely reserved for admitted patients. Once the doctor is done, he will give you a call to go over the diagnosis and to give you discharge instructions.
If you have an after-hours emergency, please call the Veterinary Emergency Clinic at 416-920-2002 which is located directly across the street from us.
Find out more about our team by visiting our Team page.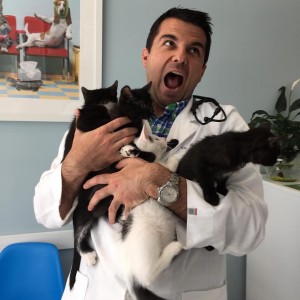 .
.