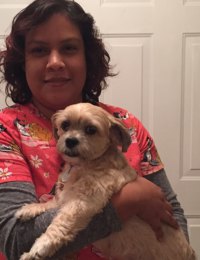 Client Care Representative
Esther was born and raised in Toronto. She currently lives in Bolton with her furry child Lady.
Esther graduated from Sheridan College for the Animal Care Program in 2016. Her wish is to continue her education to the Veterinary Technician Program and then later to become a Veterinarian.
Her passion is animals. She loves to meet all the pets and their owners and help make their time at Yonge-Davenport Pet Hospital as stress-free as possible.
Esther also loves to bake, read and swim in her spare time. She loves to volunteer at shelters and zoos whenever she can.