YONGE-DAVENPORT PET HOSPITAL COVID POLICIES – PLEASE REVIEW:

The COVID-19 pandemic is a serious issue and we are addressing it with the necessary precautions to do our part in preventing its spread. COVID-19 is a novel virus. There is much that is unknown and therefore it is NOT just like the flu. We are not panicking, we are being responsible. COVID-19 is much more contagious that other viruses and can live on surfaces for up to 15 hours. While many who contract the virus will recover, it is our entire community's responsibility to do our part to protect everyone.
Please do not visit our hospital if you are experiencing ANY symptoms of illness OR HAVE A TRAVEL HISTORY OUTSIDE CANADA WITHIN THE LAST 14 DAYS. We want to continue to provide excellent care for your precious pets, and in order to do so, we need to stay healthy. We work very closely with each other and your pets. Illnesses can spread easily in this environment. Pets can be contaminated with virus particles and serve as a fomite (essentially a contaminated surface) in the spread.
WE WILL NOT BE ABLE TO SERVE ANY PETS WHOSE HUMAN FAMILY IS ILL OR HAS BEEN AROUND THOSE WHO ARE ILL. WE ARE REFERRING THESE FAMILIES TO THE CLOSEST EMERGENCY CLINIC WHERE THEY CAN PROPERLY PROTECT EVERYONE INVOLVED. Please check with each clinic's policies as they may differ from ours.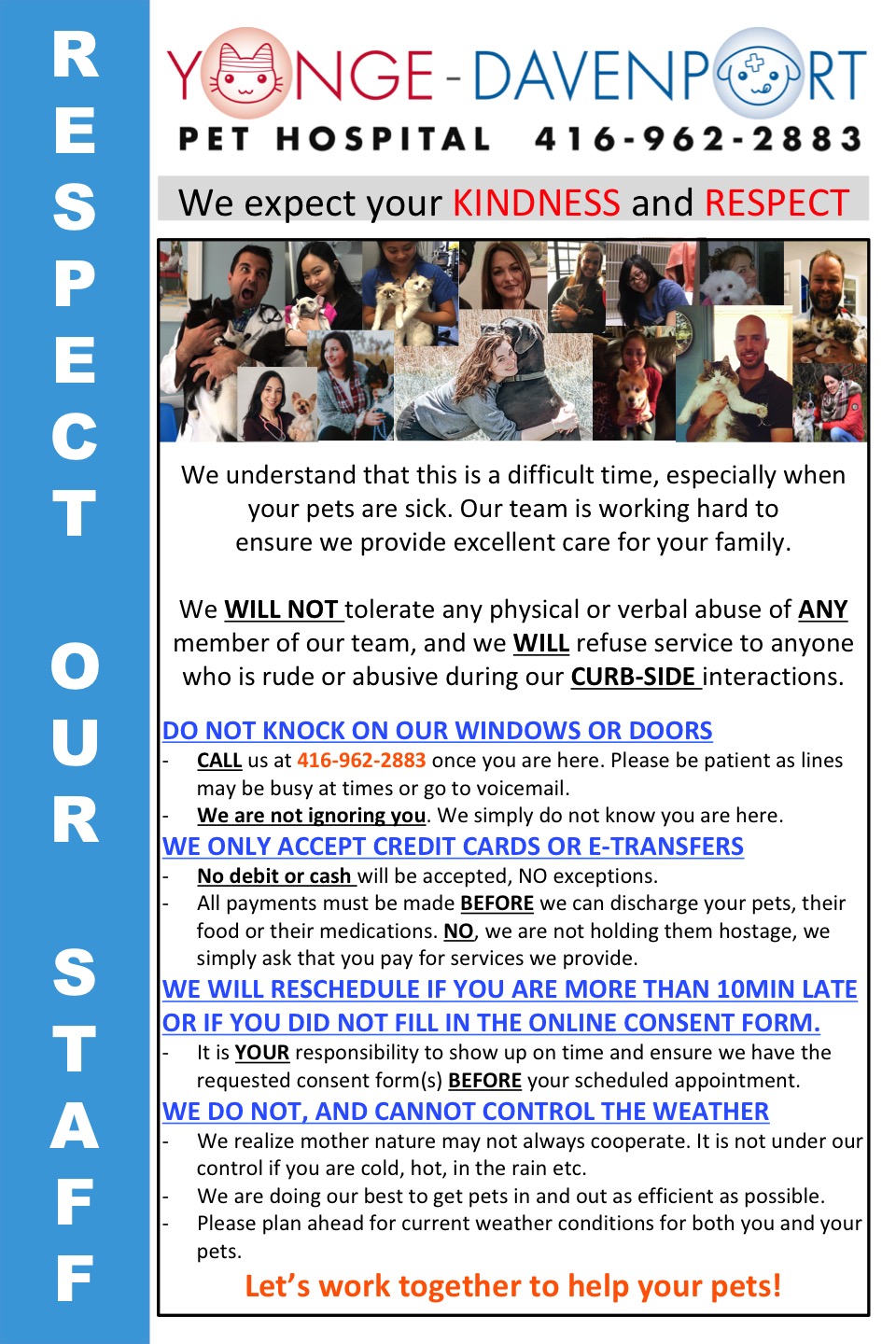 Please note we are operating Curb-side only. It is EXTREMELY IMPORTANT that you fill in the MANDATORY admission/consent form (available below) in its ENTIRETY, and with as much detail as possible.
Our front door will remain LOCKED and only opened by staff once a discussion has been had over the phone.
When you arrive, PLEASE DO NOT KNOCK ON OUR WINDOW OR DOOR. PLEASE CALL us at 416-962-2883 so a staff member can advise you of the next steps. Please be patient, as lines may be busy due to higher-than-normal call volumes.
FOR ALL APPOINTMENTS: pets will be admitted to the hospital one at a time. Owners will not be permitted to enter the building.
Our veterinarians will examine ALL pets UPSTAIRS (away from owner), and will call owners with treatment plans, so have your phone on standby at all times.
Once a pet's treatment plan has been outlined and authorized by the owner, the veterinarian will administer treatment and organize the invoice accordingly.
All invoices must be paid before returning to the clinic to collect your pet(s). WE ACCEPT ALL MAJOR CREDIT CARDS AND INTERAC E-TRANSFERS (NO CASH or DEBIT). ALL CREDIT CARD PAYMENTS ARE DONE CONTACT-FREE BY PHONE.
If you are not comfortable with the above policies and protocols, call or e-mail us to cancel or reschedule your upcoming appointment.
For FOOD AND/OR MEDICATION PICK-UP: we will invoice you over the phone and charges will be billed via credit card only (no cash or debit). Once transaction is approved, medication or food will be brought to you OUTSIDE the clinic. Please stay back 2 meters until the door is closed again after which you may pick up the supplies.
AGGRESSIVE ANIMALS: Please note that if an animal is aggressive, we may not be able to see them and may request you take them to the closest emergency clinic where they can be treated. Sedation may not be optional for some pets and we will deny entry if you are not comfortable with the possibility that your pet may need to be sedated.
Surgeries: Surgery Consent Forms will be emailed the night before and must be returned signed by the next morning's drop off. You MUST MAKE ALL decisions about optional items such as pre-anesthesia blood work or microchipping by phone with the admitting technician after you have dropped off your pet.
If your pet is scheduled for a General Appointment, including Technician Appointments, please click here
General Appointments include annual examinations (with or without vaccinations), appointments that address a medical concern or illness, rechecks/follow-up appointments, and/or pre-surgical appointments)
If your pet is scheduled for ONLY a 4DX/Heartworm Test, please click here
This test checks for the presence of the heartworm parasite, as well as various tick-borne diseases including Lyme Disease.
If your pet is scheduled for BOTH a General Appointment AND a 4DX/Heartworm Test, please click here