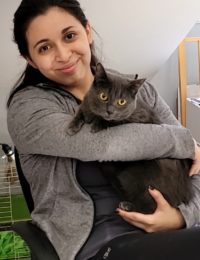 Animal Care Attendant
Valeria joined the team at the beginning of 2022 after 2 years of experience in the veterinary field. Valeria has always had a deep love for all animals, even the more spicy ones, such as her own calico cat and her sweet, spoiled grey cat. She is also very excited to further her education as she will soon start the Veterinary Technician Program at Seneca College.
Outside of work, Valeria enjoys her free time, reading, spending time with her loved ones and attempting varying artistic activities such as painting, sculpting, crocheting and more.