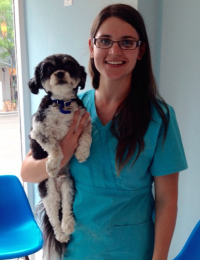 Registered Veterinary Technician
After graduating high school, Kelsey attended grooming school and groomed pets for two years before deciding even though it was lot of fun, she wanted to do more to help animals. In 2009 she enrolled in the veterinary technician program at Georgian college where she later graduated with honours and on the deans list.
In her spare time Kelsey loves to stay active. She has participated in both The Toronto Zoo Run and Tough Mudder! She also loves sports and attends a lot of sporting events. Her favourite team being the Toronto Raptors and a close second is the Toronto Blue Jays.
Kelsey currently lives in a zoo! She lives with her mom, her brothers, their girlfriends and all their animals. The current animal head count consists of: 5 dogs, 4 extremely friendly cats, 2 ferrets, a bird and leopard gecko.She loves to travel and also volunteering abroad. Her volunteer work has taken her from the jungles of Paraguay to the wilderness of Africa.