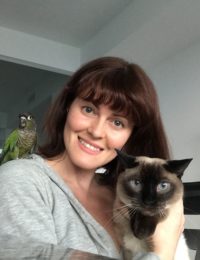 Registered Veterinary Technician
Katerina joined our team in May 2021. She graduated from the Veterinary Technician program at Sheridan College, and has been working in the veterinary industry for a few years now.
Katerina left a corporate HR career and decided to explore the veterinary field as another career path. Her compassion and love for animals started early in life, but didn't lead her to work with animals until a few
years ago. She realized that work is just better with animals around! Katerina still has a lot to learn, but enjoys the process and is happy to have made the change.
As a Registered Veterinary Technician, Katerina enjoys all aspects of the job. She loves being a part of a team that is extremely dedicated to their jobs, no matter the physical and emotional demands
of the work environment. She finds it calming and soul-fulfilling to nurture animals so they can live better lives. At the moment, she especially wants to excel in dentistry, anesthesia, and client communication.
After a busy workday, Katerina can be found at home cooking or just relaxing with a good book/movie, her cat in her lap and a bird on her shoulder.
Katerina loves music, drawing, dancing, gardening as well as reading everything from classical fiction to National Geographic magazines. She also loves playing sports and discovering new restaurants around
the city.