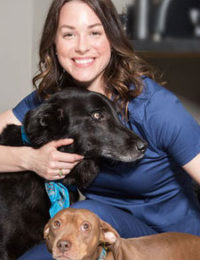 Registered Veterinary Technician
Jessica has been a Registered Veterinary Technician for just over 5 years. She has extensive experience working in both Emergency Referral Centres, as well as several small animal clinics in Toronto. Her focus on preventative medicine and watching our furry loved ones grow stems from her belief that our pets are an extension of our family, and as such should receive the best care possible.
Jessica has two pets of her own, a dog Hugo and cat Jax, both of which keep her very busy and happy.
When she is not working, she loves to try new restaurants, stay in and cook, stay active, and spend time with friends.