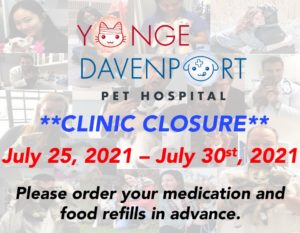 Dear valued clients,
Covid-19 has challenged all of us in ways we never imagined; yet our staff has worked tirelessly through a global pandemic. This has however taken a toll on our staff and we are taking this time off to recuperate, rejuvenate and ensure our mental health is well taken care of. Our clinic has, like many other clinics, become a victim of compassion fatigue. Although we have done our best to continue to provide the best possible care for your pets, we have encountered a large surge in verbal and even some physical abuse to our staff during this difficult time, which we can no longer tolerate.
We are practicing "Curb-Side" appointments not because we want to but because we need to (for your safety as well as ours). Although not ideal, we have a system in place that is safe and effective. We anticipate continuing "Curb-side" appointments for at least the rest of August and likely September 2021. Believe it or not, pets overall have done better then anyone expected being away form their owners.
We have also asked that all clients fill in an online admission form and will not be accepting any more patients unless this form is filled in well in advance of the appointment. We have also instituted a late arrival policy, whereby if you are more then 10 minutes late for your appointment, it will have to be rescheduled. In an effort to continue to provide timely and efficient service to all of our clients, we must implement these changes.
Given all the challenges we have had to overcome, we, as a team, have collectively decided to take some time for ourselves. In doing so, we would like to advise you of an upcoming closure for our hospital July 25th 2021 – July 30th 2021. Please note that during this period, the clinic will be completely closed and we will not be able to see any patients, nor will we be able to refill any medication or sell any supplies or prescription diets. As such we wanted to remind everyone to refill all medications and food orders well before this date. If your pet requires veterinary medical attention during this time, we encourage you to visit the Veterinary Emergency Clinic at 920 Yonge St. (across the street from us) or give them a call at 416-920-2002. Email will also not be checked for the duration of this period. Regular business hours will resume Saturday July 31st 2021 from 9am-4pm.
Thank you to all our loyal clients that have been kind and supportive during these difficult times. Your positive notes, emails and online praise have definitely helped our staff stay as positive as possible during this difficult time. We realize this closure may cause some inconvenience and thank you in advance for your continued support of Yonge-Davenport Pet Hospital.
Sincerely and Respectfully,
Dr. Vlad Stefanescu and the rest of the team at Yonge-Davenport Pet Hospital.